JORDAN
(Updated 2016)
1. GENERAL INFORMATION
1.1. Country overview
Note: The content of this section, including Tables 1 and 2, has been removed by the IAEA to better focus the report on nuclear power.
1.2. Energy Information
1.2.1. Estimated Available Energy
TABLE 3. ESTIMATED AVAILABLE ENERGY SOURCES
Estimated available energy sources
 Fossil Fuels
Nuclear 
Renewables
Solid
Liquid
Gas
Uranium
Hydro
Other
Renewable
Total amount in specific units*
40 000
-
300.00
70 000.00
-
0.00
Total amount in Exajoule (EJ)
251.00
-
0.95
38.10
-
0.05
*Solid, Liquid: Million tons; Gas: Billion m3; Uranium: Metric tons; Hydro, Renewable: TW.
Source: Ministry of Energy and Mineral Resources, 2015
1.2.2. Energy Statistics
TABLE 4. ENERGY STATISTICS
Year
1980
1990
2000
2005
2010
2015
Compound Annual Growth Rate (%)
2000 to 2015
Energy consumption (EJ) **
 
 
 
 
 
 
- Total
0.066
0.126
0.213
0.284
0.322
0.43064
5.00
- Solids***
-
-
-
-
-
-
-
- Liquids
0.066
0.11800
0.201
0.222
0.215
0.287
2.5
- Gases
0.0
0.005
0.009
0.0579
0.0958
0.128
19.0
- Nuclear
-
-
-
-
-
-
-
- Hydro
0.0
0.00017
0.0004
0.0006
0.006
0.008
22.0
- Other
Renewables
0.0
0.003
0.003
0.003
0.005
0.006
4.70
Energy production (EJ)
- Total
-
0.0087
0.012
0.0106
0.01236
0.01654
2.2
- Solids***
-
-
-
-
-
-
-
- Liquids
-
0.0007
0.00008
0.00005
0.00006
0.0005
-7.3
- Gases
-
0.005
0.009
0.007
0.0067
0.00897
3.30
- Nuclear
-
-
-
-
-
-
-
- Hydro
-
0.00017
0.0004
0.0006
0.0006
0.0006
0.06
- Other
Renewables
-
0.003
0.00300
0.00300
0.005
0.007
5.8
Net import (Import - Export) (EJ)
- Total
0.708
0.848
0.845
0.914
0.876
0.876
0.33
*Latest available data.
**Energy consumption = Primary energy consumption + Net import (Import - Export) of secondary energy.
***Solid fuels include coal, lignite.
Source: National Electric Power Company, 2016
Ministry of Energy and Mineral Resources, 2016
1.2.3. Energy Policy
The national energy policy aims at performing adequate energy provision for sustainable development with the least cost.
To reduce heavy burden on Jordan's economy, the future strategy is based on exploitation of all available local energy sources in an attempt to minimize reliance on imported energy as far as it is feasible. The strategy is comprised of the following:
To ensure security of supply of all energy forms and strengthening regional interconnections for electricity and gas.

To diversify energy sources such as gradually replacing fuel oil in different industries and electricity generation.

To enhance the utilization of local energy resources especially uranium and oil shale.

To increase the share of renewable energy in the total energy mix.

To adopt the principles of privatization to alleviate the administrative and procedural restrictions in order to allow the private sector to invest and produce according to the market forces in a competitive environment.

To attract international oil and gas companies to explore in Jordan

To formulate pricing policies and improve pricing levels and structures.

To reform the petroleum sector by liberalizing petroleum, rationalizing pricing and tax structure and dismantling monopolies.

To promote energy efficiency to reduce energy intensity and rationalize demand growth.
1.3. The electricity system
1.3.1. Electricity policy and decision making process
The major power entity in the country, Jordan Electricity Authority (JEA), was owned by the Government. It was the main electric power monopoly for the generation, transmission and distribution of centralized grid power. To promote greater efficiency and sustainability in the system, a process of reforms has been started to remove government's monopoly on generation, transmission and distribution. In 2001, the Jordan Electricity Regulatory Commission (ERC) was established, which is mandated to regulate the electricity sector based on free market economic principles and thereby create a level playing field for participation of all interested stakeholders. The tasks of the ERC were taken over by the Energy and Minerals Regulatory Commission (EMRC) in 2014.
As a consequence of the reform process, the generation and distribution areas of the electricity market are being deregulated. Three separate generation companies and three distribution companies were established for the various parts of the country. These would be individually licensed, while only the transmission area would remain under the government controlled National Electric Power Company (NEPCO).
1.3.2. Structure of electric power sector
Energy and Minerals Regulatory Commission (EMRC)
The Energy and Mineral Resources Regulatory Commission is a financially and administratively independent commission; EMRC was established based on the Council of Ministers decision in 2014.
EMRC responsibilities include the following:
Regulating the sector on the basis of balance between the interests of the consumers, licensees, investors and any other relevant parties, including the regulation and monitoring of the uses of the nuclear, radioactive and ionized radiation energy sector.

It ensures that the conditions and requirements of public safety, radiation protection, and nuclear safety and security are in place, and works on protecting the environment and human health and properties from the risks of contamination and exposure to ionized radiations.

It also aims at attending to the interest of electricity consumers, provided the compliance thereof with the conditions on provision of services issued by the licensees and approved by EMRC, as well as at maintaining an active structure for the sector and developing the same in a manner that contributes to and promotes its economic feasibility thereof enhances the efficiency thereto.

Ensuring the provision of safe, stable, ongoing, quality and adequate services while ensuring the compliance of enterprises working in the sector with the standards of environmental protection instructions and laws and the general safety conditions applicable in the Kingdom.

It aims at regulating the best utilization of mineral resources, including the extraction and excavation of stone minerals, investment in minerals, and setting and preparation thereof for marketing.
National Electric Power Company (NEPCO)
National Electric Power Company is considered to become the natural and legal successor to Jordan Electricity Authority, which was established in accordance with special Decree No. 21 of 1967 with an independent financial and administrative existence. In order to enable the new company to perform its activities, 1996 Decree No 10, subsequently amended by Decree No 13 of 1999, was issued to regulate the electricity sector in Jordan. Accordingly, the NEPCO was restructured into three separate companies. The government maintained the ownership of the activities of transmission, power control, power purchase and sale and power exchange with neighboring countries. NEPCO's activities include the following:
To plan, construct, develop, operate and maintain the power system.

To purchase electrical energy from various sources and sell it to distribution companies and large consumers (Single Buyer).

To procure natural gas for power stations.

To maintain a safe and economic operation of the power system.

To import and export electric power.

To award contracts for new generation capacities.
Central Electricity Generating Company (CEGCO)
The operation of the Central Electricity Generating Company (CEGCO) started on 1/1/1999 as a public company stemming from the governmental policies related to restructuring the electrical sector. On September 20th, 2007, CEGCO was privatized. Energy Arabia (Enara), a company established by Jordan Dubai Energy, the energy investment arm of Jordan Dubai Capital, announced the purchase of 51 % of total shares, the Government of Jordan retained 40 % and the remaining 9 % of shares were transferred to the investment unit of the Social Security Corporation. CEGCO currently owns about 1600 MW of generation capacity and its activities include power generation, operation and maintenance of their power plants.
Samra Electric Power Generation Company (SEPGCO)
Samra Electric Power Generating Company (SEPGCO) was established and owned by the Jordan government in August 27th, 2003 under the provisions of the Corporations Law No 22 of 1997. SEPGCO currently owns 500 MW of generation capacity and its activities are similar to that mentioned in CEGCO's section.
AES Jordan PSC Company
In April 2007, AES expanded its operations into Jordan, where it is constructing the country's first independent power project, a 370 MW combined cycle gas-fired (CCGT) power plant located on the boarders of Amman. The project, called AES Jordan PSC (also known as the Amman East Power Project) started commercial operation in September 2009.
Jordan Electric Power Company (JEPCO)
JEPCO was established by the private sector in 1938. JEPCO is an electricity distribution company with a concession that covers the central part of Jordan. The concession gives the rights to JEPCO to distribute electricity in an area that includes major cities such as Amman, Zarqa, Salt and Madaba.
Irbid District Electricity Company (IDECO)
Irbid District electricity Company (IDECO) was established in 1957. It is operating under concession agreement and electricity license which granted IDECO the exclusive right to distribute, and supply electricity in the northern region of Jordan, which includes Irbid, Jarash, Ajloun and parts of Balqa district. The company has been privatized by selling 55.4 % of its shares to Kingdome Electricity Company (KEC,) which is owned by Dubai Capital Company.
Electricity Distribution Company (EDCO)
Electricity Distribution Company (EDCO) was established in 1998 as a public shareholding company. The company operates under concession law which granted EDCO the exclusive right to distribute and supply electricity in the southern region of Jordan. EDCO was privatized in 2008 by selling 100 % of its shares to Kingdome Electricity Company (KEC) which is owned by Dubai Capital Company.
1.3.3. Main indicators
TABLE 5. ELECTRICITY PRODUCTION, CONSUMPTION AND CAPACITY
Year
1980
1990
2000
2005
2010
2015
Compound Annual Growth Rate (%)
2000 to 2015
Capacity of electrical plants (GWe)
- Thermal
0.300
1.040
1.661
2.005
2.645
4.316
6.7
- Hydro
-
0.007
0.010
0.012
0.012
0.012
1.2
- Nuclear
-
-
-
-
-
-
-
- Wind
-
0.000
0.001
0.001
0.001
1.18
60.00
- Geothermal
-
-
-
-
-
-
-
- other renewable
-
-
0.001
0.001
0.004
0.0035
8.70
- Total
0.300
1.047
1.673
2.018
2.662
5.512
8.30
Electricity production (TW.h)
- Thermal
1.070
3.626
7.333
9.589
14.203
18.36
6.3
- Hydro
0.000
0.011
0.039
0.057
0.059
0.059
2.8
- Nuclear
-
-
-
-
-
-
-
- Wind
0.000
0.001
0.003
0.003
0.003
1.3
50.5
- Geothermal
-
-
-
-
-
-
-
- other renewable
0.000
0.000
0.003
0.005
0.007
0.008
6.7
- Total**
1.070
3.637
7.378
9.654
14.272
18.36
6.8
Total Electricity consumption (TW.h)
0.877
3.089
6.133
8.712
11.956
16.178
6.4
Source: National Electric Power Company, 2016
TABLE 6. ENERGY RELATED RATIOS
| | | | | | | |
| --- | --- | --- | --- | --- | --- | --- |
| | 1980 | 1990 | 2000 | 2005 | 2010 | 2015 |
| Energy consumption per capita (GJ/capita) | 29.6 | 36.3 | 42.5 | 53.8 | 54.2 | 58.8 |
| Electricity consumption per capita (kWh/capita) | 482.0 | 1 054.0 | 1 472.0 | 1 939.0 | 2 427.0 | 2 318 |
| Electricity production/Energy production (%) | - | - | 33.4 | 34.0 | 44.0 | - |
| Nuclear/Total electricity (%) | - | - | - | - | - | - |
| Ratio of external dependency (%)* | 99.0 | 97.0 | 97.0 | 97.0 | 97.0 | 97.0 |
*Latest available data.
 **Net import / Total energy consumption.
Source: National Electric Power Company,2016
Ministry of Energy and Mineral Resources, 2016
2. NUCLEAR POWER SITUATION
2.1. Historical development and current organizational structure
2.1.1. Overview
Historically, the Jordan Nuclear Energy Commission (JNEC), an agency whose board of directors was chaired by the Minister of Energy and Mineral Resources, was involved in developing a national strategy for the introduction of civilian nuclear power in the energy mix.
In order to prioritize the development of nuclear power, a High Level Ministerial Committee, chaired by the Prime Minister, was established in November 2006 to explore and marshal national efforts for the introduction of nuclear power in the country. The Committee produced a "roadmap" which outlined the strategic goals and activities to be undertaken to implement a nuclear power programme. In essence, the Committee, along with a supporting Technical Group, drawn from various ministries and agencies at the director general or deputy minister level, served the function of the Nuclear Energy Programme Implementing Organization (NEPIO).
A Royal Decree to pursue nuclear power was issued in January 2007, taking into account national goals for energy security and diversification, and a desire to reduce dependence on and uncertainty of imports.
This was accompanied by the allocation of resources for planning and the enacting of National Laws 42/2007 and 43/2007 to establish guidelines and institutions, specifically the Jordan Atomic Energy Commission (JAEC) and the Jordan Nuclear Regulatory Commission (JNRC). In 2014, the JNRC was restructured and merged with other regulatory commissions in Jordan under the name EMRC.
The High Level Committee was replaced by an inter-ministerial committee in 2009, chaired by the Minister of Planning and included ministers of Energy, Environment, Finance, Water and Irrigation Ministries, in addition to Chairman of JAEC and Director General of JNRC. In 2010, a new High Level Committee, chaired by the Prime Minister, was formed, replacing the previous inter-ministerial committee, and in July 2010, decided to establish a NEPIO Steering Committee.
2.1.2. Current organizational chart(s)
The national organizational structure for the implementation of the nuclear power programme is depicted in Figure 1. As shown in Figure 1, the JAEC has the direct responsibility for the development and implementation of the nuclear power programme. The JNRC regulates, monitors, controls and issues licenses for applications of nuclear energy to ensure nuclear safety and security. Both JAEC and EMRC report to the Prime Minister (PM).

FIG 1. Structure for NPP implementation
2.2. Nuclear power plants: Overview
2.2.1. Status and performance of nuclear power plants
Table 7 is not applicable.
2.2.2. Plant upgrading, plant life management and license renewals
2.3. Future development of Nuclear Power
2.3.1. Nuclear power development strategy
The uncertainty of energy supplies and their increasing costs are severely affecting the growth of Jordan's economy and the security of energy supplies. Presently, Jordan imports more than 98% of its energy needs. Hence, the development of secure alternative energy supplies is a top priority. Jordan has limited options to substitute for oil products. The main option is imported natural gas which is a short to mid-term option and cannot be relied upon for the long term due to continuous disruptions of the flow to Jordan from Egypt. Consequently, natural gas should be used as a peaking source in the future. Renewable energy will be developed to the fullest possible extent. Oil shale is a medium term solution that generates electricity with limited capacity
Jordan's energy strategy aims to achieve a sustainable energy system through the diversification of energy resources and the maximum utilization of indigenous energy resources. Jordan's dependence on a single source of energy to produce electricity has made its economy susceptible to frequent shocks. This has come true following the interruption of the Egyptian gas supply and the need to replace it with more expensive fossil fuels to produce electricity. The energy strategy outcome was to adopt the nuclear option as a viable alternative to produce electricity to constitute 20 percent of the energy mix. Furthermore, Jordan enjoys vast unexploited deposits of uranium throughout the Kingdom that can be utilized as feed material for its nuclear fuel.
Since 2001, Jordan has been developing a national strategy for civilian nuclear power, this strategy aims to:
Ensure the security of energy supply;

Diversify the electricity generation sources;

Provide competitive energy source;

Reduce the imported fossil fuel bill;

Exploit the national uranium resources;

Encourage partnerships between the public and private sectors;

Ensure the transfer of optimum technology and national worker's contribution in all stages;

Develop industries related to the energy sector; and

Reduce the GHG emissions from power generation.
JAEC issued a Bid Invitation Specification (BIS) in 2011 to international nuclear vendors and received technical and financial bids from three separate vendors: AtomStroyExport (ASE), Areva / Mitsubishi Heavy Industries Joint Venture (trading under the name "ATMEA") and Candu Energy. On a parallel track, JAEC issued an Investor/Operator bid to attract a strategic investor who will be responsible as well to operate the plant for at least five years. After an initial evaluation, JAEC kept ASE and ATMEA (Areva/ Mitsubishi Heavy Industries Joint Venture) in the bidding process. In August 2013 and following several rounds of clarification with the two vendors, JAEC selected ROSATOM State Corporation (JSC AtomStroyExport) and Rusatom Overseas (RAOS) as the Preferred Bidder (technology vendor, investor and operator). The selection was a result of a technical evaluation that started in July 2011 and a financial evaluation that started in September 2011. The evaluation (methodology) was carried out based on the following criteria:
Key Factors

Evaluation Matrix

Exclusionary Topics

Best in Class

Price Normalization (Capital and LCOE)
The evaluation was carried out by a national team composed of JAEC and other ministries with the assistance of International Consultants.
The Jordan Nuclear Power Plant Project (JNPP) is currently envisaged as being composed of two Pressurized Water Reactors based on the Russian AES-92. This design is a Generation III+ advanced light water reactor with one of the highest nuclear safety and security standards. The net-generation capacity is about 1000 MWe per reactor and the plant is expected to be in operation during 2024-2025, with a life time of 60 years.
On behalf of the Government of Jordan (GoJ), JAEC signed the Project Development Agreement (PDA) with RAOS on the 22nd of September 2014. The PDA identifies project-specific activities to be carried out by both parties during the development phase as well as specific criteria for the investment decision. On the 24th of March, 2015, the GoJ and the Government of the Russian Federation signed the Inter-Governmental Agreement (IGA) on cooperation for the construction and operation of the NPP.
The Project is being implemented using a two-phased approach. Phase I (Pre-Investment Phase (PIPh)) includes concluding all financing requirements, site characterization and environmental impact assessment, in addition to the negotiations with ASE and the Strategic Partner, i.e, RAOS, on all Project related agreements. Phase II (Investment Phase) of the project is the implementation and construction phase leading to production operations and inevitably, decommissioning at the end of the plant's lifetime.
TABLE 8. PLANNED NUCLEAR POWER PLANTS
| | | | | |
| --- | --- | --- | --- | --- |
| Station/Project Name | Type | Capacity | Expected Construction Start Year | Expected Commercial Year |
|  Jordan Nuclear Power Plant |  PWR | 1000  | 2019  | 2024  |
2.3.2. Project management
The implementation of the Project is based on a Public Private Partnership (PPP) model. At the outset, the Jordanian side will own 50.1% and RAOS will own 49.9%. ASE is the EPC contractor for the Project, whereas an affiliate of ROSATOM will be the Russian Strategic Partner and Operator for the Power Plant. The Government has established in October 2015 the Jordan Nuclear Power Company (JNPC), to be responsible for negotiating all commercial contracts with the Russian parties and implementing the Project through securing Jordan's debt and equity portion in the Project. After concluding all project agreements, the JNPC will sign a Shareholder's Agreement (SHA) and a Share Purchase Agreement (SPA) with the relevant Russian Party in order to introduce them as a partner in the JNPC thus forming the 'Project Company' that will be responsible for the construction, operation and decommissioning of the nuclear power plant.
JAEC's role will continue setting the nuclear policy and strategy and manage future nuclear projects, act as the waste management organization, and in the future, it will provide Technical Support Organization (TSO) advice to both JNPC and the Regulator (EMRC) with the consideration to maintaining separation between the two groups providing the services.
2.3.3. Project funding
JAEC has been exploring various options to fund and finance a Nuclear Power Plant (NPP). Currently, the government is funding all of the pre-construction activities for the project. The government is also expected to acquire shares of the equity of the NPP and to guarantee a long-term power purchase agreement (PPA).
Jordan is inclined to pursue a PPP but is also exploring other options, such as a "build-own-operate" or a "build-operate-transfer" plan.
Under either approach, Jordan will contract much of the short-term responsibility (5-10 years) for plant operation and maintenance to the international operator. But, in the long-term, Jordan will develop these capabilities locally.
The Government has selected ASE as a preferred EPC contractor and Rusatom as a strategic investor. The Russian side will provide 49.9% of the equity and the rest will be the responsibility of the Government of Jordan, which is currently working with regional and international investors to secure its equity share of 51.1%. On a parallel track, JAEC is currently in discussions with lenders to solicit and secure Debt Financing for the Project.
2.3.4. Electric grid development
Jordan is planning to acquire a 700 to 1200 MWe reactor to be operational by 2024-2025. Jordan has started site characterization studies, securing funding, selecting a vendor and developing a workforce. Jordan's electrical load of 3000 MWe which will reach 5000 MWe by 2020 (see Figure 2), is relatively small and may be able to support a 1000-1200 MWe reactor by taking the following measures:
Interconnecting with north Saudi Arabia

Upgrading the interconnection with Egypt and Syria

Upgrading the interconnection with the West Bank

Signing a long term electricity export agreement with neighboring countries

Using the nuclear reactor for dual use, including seawater desalination.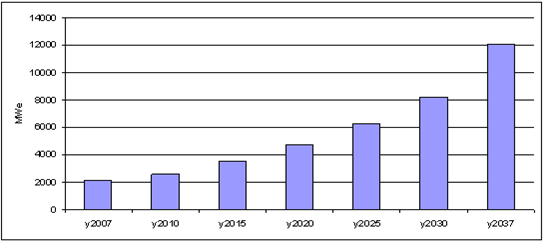 FIG 2. Jordan projected electrical load, 2007-2037
Jordan's electricity grid is currently interconnected with Libya, Egypt, Lebanon, Palestine, Syria and Turkey, and may be connected to Iraq and Saudi Arabia in the future. With the exception of Saudi Arabia, these countries participate in grid sharing through a multi-party agreement. Jordan welcomes the idea to connect to the integrated grid of the Gulf Cooperation Council – Bahrain, Kuwait, Oman, Qatar, Saudi Arabia and UAE – in the future. Jordan's present electricity grid interconnection is shown in Figure 3.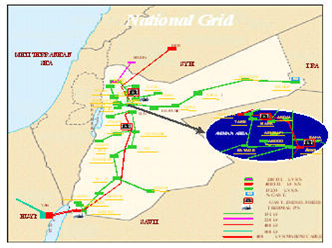 FIG 3. Current Electric Grid and Interconnection
2.3.5. Siting
In 2009, JAEC launched environmental and feasibility studies for siting of Jordan's first NPP. External international consultants were engaged to develop country wide survey study that explored potential sites in conformity with international safety standards.
A potential site considered for the location of the JNPP was close to Aqaba, in the south of Jordan. However, considering the high seismicity of the region and the additional engineering cost to erect an NPP on this site, investigation was shifted to a new site located north of Amman, which includes approximately 10 km of flat and undulating surface sufficient for the construction of the two nuclear The site was close to the main Assamra Wastewater Treatment Plant, and the quantity of treated wastewater is sufficient to meet the cooling water requirements for the NPP. However, after the Fukushima Daiichi Nuclear Power Station accident in 2011 and in response to public concerns to the proximity of the NPP to population centers, JAEC decided to move the exploration further away from population centers, 60 kilometers northeast of Amman on the edge of the northern desert near Qasr Amra area in the central part of Jordan (see Figure 4). In November 2014, JAEC has selected an international consultant to carry out detailed site characterization and Environmental Impact Assessment (EIA) study, which will take about 2-3 years to be finalized.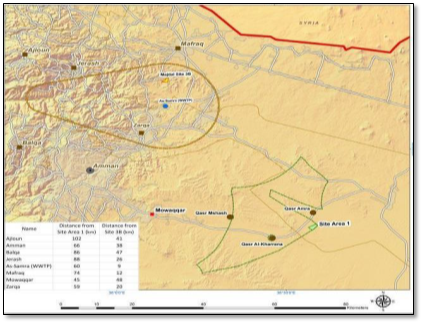 FIG 4. Selected Site-Site Area 1
2.3.6. Public Acceptance
Addressing public acceptance within the Jordanian society is currently pursued through launching a media campaign through radio, television and social media to disseminate sound and correct information and highlight the benefits Jordan will reap through implementing the nuclear program enabling the country to circumvent its energy challenge. JAEC recognizes the need to commission its own polls, currently JAEC is in the final stages of preparing the public opinion poll
2.4. Organizations involved in construction of NPPs
The JAEC is responsible for the planning and implementation of the nuclear power projects with the assistance of external consultants.
JNPC, initially a state-owned entity, will form a joint venture (see Figure 5) with RAOS to create an evolved JNPC, the 'Project Company', to construct, own, operate, and decommission the Nuclear Power Plant (NPP).
JAEC's policy is to leverage Jordan's industrial capacity, in particular the Jordan construction companies, architect-engineering firms, cement and steel industries, to support the construction of the nuclear power programme which target 20%.
A national Localization Committee was established in 2014 which will develop the policy that include the identification of areas of expected localization during different phases of the project and endorsed by the Government.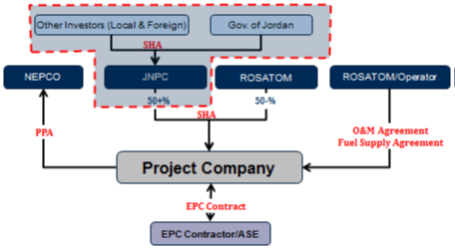 FIG 5. Project Structure
2.5. Organizations involved in operation of NPPs
In addition to the following organizations, other organizations will be involved in the operation Jordanian NPPs according to future developments.
Project Company: Owner and operator

JAEC: Policy and Technical Support Organization

Fuel supplier: to be determined

Investors: to be determined

Ministry of Water and Irrigation: water supply agreement

NEPCO: electricity off-taker

EMRC: Regulations and licenses

Ministry of Housing and Public Works: off-site infrastructure
2.6. Organizations involved in decommissioning of NPPs
For the Jordanian NPPs, the following organization will be involved in decommissioning:
Project Company: Owner and operator

JAEC: Policy and Technical Support Organization

EMRC: Regulations and licenses
2.7. Fuel cycle including waste management
The Nuclear Fuel Cycle Commission at JAEC is responsible for development the policy on the front end of the fuel cycle, which is expected to be submitted to the GoJ in the latter parts of 2016.
The GoJ adopted a national policy for radioactive waste and spent fuel management in July 2015. The policy includes the following main elements:
Spent nuclear fuel is considered as a strategic resource and not as radioactive waste;

Reprocessing within and outside Hashemite Kingdom of Jordan is allowed;

Importing radioactive waste is not permitted;

Provides for the establishment of facilities to dispose of radioactive waste;

Encourages the research and development of back-end fuel cycle capabilities based on commercial viabilities, with indigenous capabilities covering radioactive waste management and treatment facilities, spent fuel management and reprocessing facilities, and disposal facilities for radioactive wastes up to and including high (or heat generating) waste.
Based on country-wide airborne magnetic and spectrometric survey conducted in the early 1980's, four areas with relatively high-level radiometric anomalies were identified to potentially contain significant amounts of surficial uranium deposits: Central Jordan Area (CJA), Hasa-Qatarana Area (HQA), Wadi Bahiya/Bayer Area; and Sahab Elabiad/Shediyya Area
JAEC officially launched the Jordanian Uranium Mining Company (JUMCO) in 2013 to manage the Central Jordan Uranium Project (CJUP) and has granted JUMCO exclusive exploration rights within the CJUP, the rights of which extend until completion of a Bankable Feasibility Study (BFS).
The responsibilities assigned to JUMCO can be summarized as follows:
Exploration of uranium in CJA in accordance with international standards, enabling derivation of uranium resource estimates that are Joint Ore Reserves Committee compliant.

Development of optimized uranium ore processing leading to the development of a pilot-scale mining plant.

Completion of a BFS for the purpose of producing yellow cake (U3O8) from CJA ore utilizing indigenous resources.

Securing financing required to launch full-scale mining plant(s) capable of producing ˜400 and ultimately ˜1,500 metric tons of yellow cake (U3O8) annually.

Utilize the product as feed material for Jordan NPP & a proposed regional fuel bank.

Marketing the product (yellow cake).
2.8. Research and development
2.8.1. R&D organizations
Among the most prominent achievements of JAEC research and development are the Jordan Subcritical Assembly (JSA) and the Jordan Research and Training Reactor (JRTR).
Jordan Research and Training Reactor (JRTR) is being built on the campus of JUST by Korean Atomic Energy Research Institute and Daewoo Engineering & Construction (KDC) consortium. The JRTR is being built on the campus of JUST to be the corner stone for a center of excellence in nuclear science and technology in Jordan. JRTR is a multipurpose, 5 MWth upgradable to 10 MWth reactor.
The JRTR will provide a strong training and research platform for nuclear engineering students and other nuclear science experts. It will also be utilized for radioisotope production in support of regional medical, industrial and agricultural sectors. The JRTR is nearing completion and scheduled to undergo "Hot Commissioning" soon, and will be operational by the end of 2016.
Jordan Subcritical Assembly (JSA) is the first nuclear facility to be constructed in Jordan, at JUST campus, for the purposes of education, training and experimental research. JSA adopts the vertical platform structure with the core vessel placed on a supporting structure while an operating platform surrounding the vessel is used for fuel loading and other operation and maintenance activities. Following the commissioning of JSA in 2013, it is mainly being utilized for Nuclear Reactor Physics Laboratory training of nuclear engineering students at JUST. Experiments conducted using JSA include, but are not limited to, approach to criticality, flux mapping, reactivity determination using source jerk method, Rossi alpha method, Feynman alpha method, and a number of other experiments.
2.8.2. Development of advanced nuclear technologies
2.8.3. International co-operation and initiatives
Jordan is an active member in the International Framework for Nuclear Energy Cooperation (previously the Global Nuclear Energy Partnership or GNEP).
Jordan, represented by JAEC, has been negotiating Nuclear Cooperation Agreements (NCA) with several countries experienced in operating nuclear power plants. These negotiations led to the signature of NCAs with France, China, Republic of Korea, Canada, Spain, Argentina, Russian Federation, the United Kingdom, Japan, Romania, Italy, Turkey, Saudi Arabia and Armenia.
2.9. Human resources development
JAEC strategy for human resource development is to develop the knowledge and skills needed for the human resources to support all phases of the Jordanian nuclear power programme in a timely manner.
In order to achieve the objectives, a plan for both educational and training programmes was developed as described in the following sections.
Education and Training Programmes
The education and training programme for the implementation of nuclear power entails the deployment of a multi-pronged training strategy which will include formal education in universities and community colleges; on-the-job training; facility-specific-training provided by reactor vendor organizations; direct participation during project implementation and partnerships with experienced power utility organizations for initial operation of power plants, among others.
Jordan is developing a training plan for capacity building in human resources (engineers, experts and technicians) for its nuclear programme. This should be implemented via the education system and additional professional training programmes covering the subjects related to:
Nuclear Power (engineers, experts and technicians and other relevant personnel).

The specialized subjects in both scientific and technical disciplines.

On-the-job training (for personnel to experience real-time operation).
In order to achieve this national plan, the following actions are taken:
Educational Programme
The mechanism to implement this programme will be through:
The establishment of nuclear undergraduate programme and upgrading of master degrees in nuclear engineering and management in Jordan universities.

The provision of scholarships, fellowships in nuclear fields from JAEC, Jordanian universities and other institutions in Jordan and from abroad.

The establishment of a center of excellence in collaboration with advanced nuclear power countries.

The collaboration with regional and international agencies such as IAEA in fields related to nuclear power and safety.

Postgraduate training in the best international institutes
A number of educational institutions have established nuclear studies programmes to help reach this goal. The Jordan University of Science and Technology (JUST) established a nuclear engineering department in 2007, offering a Bachelor's degree to lead Jordan's effort in developing its nuclear energy education infrastructure, and to introduce nuclear power as part of its energy mix. The University of Jordan, Yarmouk University (YU), and Al-Balqa Applied University (BAU) have started a Master programme in nuclear physics.
The Department of Nuclear Engineering (NE) at JUST offers a five year B.Sc. degree in Nuclear Engineering. JUST has also signed MOUs with several foreign universities, proposing collaboration and exchanges in nuclear engineering at institutions such as North Carolina State University, the University of Illinois, Virginia Tech, Ohio State University, and the University of California.
JAEC made great efforts to assist JUST in developing its capabilities in its Nuclear Engineering programme. A sub-critical assembly has been built and installed at JUST in 2011. A nuclear research reactor (5 MWt) is being built currently at JUST. It would serve as an integral part of the nuclear technology infrastructure for education, training, and isotope production. It will also become the focal point for a Nuclear Science and Technology Center (NSTC) and allow for proper training of nuclear engineers & operators and other technicians.
Under bilateral nuclear cooperation agreements or own funding, Jordan is sending abroad new graduates and staff to receive training or complete their post-graduate education in nuclear engineering related fields. A total of 95 students have been sent on scholarships abroad for M.Sc. and Ph.D. degrees in nuclear engineering and related fields, as well as specialized degrees.
Also 28 engineers and technicians were trained at KAERI on aspects related to JRTR (Operation, Supervision, Monitoring and Maintenance).
Jordan and France have agreed and signed an MOU to establish a specialized Centre of Excellence to prepare qualified manpower for the nuclear programme. The Centre will rely on the faculties and resources of both the academic and technical institutions in Jordan. At start, the focus of the Centre would be to cover the required human resources for project managers, nuclear safety professionals, and highly qualified technicians.
Training Programme
A training plan is under development to cover:
Fundamental & basic knowledge of NPP (Nuclear Theory, General Plant System, etc.) for new staff

Practical and essential knowledge to improve existing and new staff's expertise (Operation, Mechanical, Electrical, I&C, Core & Fuel, Safety, etc.)

Advanced specialized training in core areas
The mechanisms to implement this plan will be through:
Local resources

Contracts that JAEC negotiate

Local involvement and technology transfer from design to operation & maintenance

Close cooperation for training and expert visits with international Laboratories

IAEA technical cooperation programme (Specialized training courses & workshops, fellowships programmes and OJT, scientific visits, national consultants, expert services)

Arab Atomic Energy Commission (AAEC) training opportunities.
2.10. Stakeholder Communication
The Government and JAEC are seeking input from key stakeholders at various critical phases of Jordan's nuclear power programme, as well as keeping them aware of developments.
JAEC has developed a strategy which includes three phases:
Build awareness, inform and educate

Engage different stakeholders

Empower them to advocate the project.
JAEC has conducted a number of public information activities focused on key stakeholders such as parliamentarians and journalists, but they are now focusing more on the 'neutral' general public and, in particular, young people.
Domestic public opposition has raised safety and environmental concerns since the disastrous accident at Japan's Fukushima Daiichi Nuclear Power Plant in 2011. The program has become a subject of increased domestic debate and a source of contention. Hence, the Government has intensified its efforts on several public awareness campaigns to clarify any misinformation and focus on the safety features of the NPP. The Government also aims at presenting the work that has been undertaken by JAEC so far to assure the public that all measures and international standards have been met for the safety and security of the NPP.
JAEC recognizes that a public information centre should be established, JAEC is also considering a mobile information centre following some countries' practices.
Furthermore, JNPC is planning to establish a communication department with professional communication staff to communicate with the local community.
2.11. Emergency Preparedness
JAEC has identified and assessed the consideration of populations and emergency planning, in particular in relation to present and future land uses, characteristics and distribution of the population, radiological effects and risk.
The National Emergency Response Committee (NERC) conducted a gap analysis of the emergency communication networks for radiological and nuclear emergencies through the establishment the response organization chart, and identified the roles and responsibilities for each national stakeholders participating in the emergency preparedness and response plan.
JAEC, EMRC and the National Emergency Response Committee have worked together and achieved the following:
Basic regulations developed.

National coordinating authority for emergency preparedness and response established.

Clear roles and responsibilities for each organization involved.

Clear chain of command for emergency response management established.

Identification of the size and type of accident to be covered by the plan.

Control measures for precautionary action zone and urgent protective action planning zone for threat category I and II (nuclear power plants and research reactors).
3. NATIONAL LAWS AND REGULATIONS
3.1. Regulatory framework
3.1.1. Regulatory authority(s)
JNRC was established in 2007 as a successor to the former JNEC, established in 2001. JNRC is effectively an independent and adequately empowered regulatory body. It enjoys administrative and financial independence, shown Figure 6.
In 2014, JNRC merged with other regulatory bodies (namely the electricity production and mineral resources) under the EMRC, and the main goals of EMRC is to work, in coordination with relevant bodies, on achieving the following:
Regulating and monitoring the use of nuclear energy and ionizing radiation.

Protecting the environment and human health and property from the hazards of radiation and related pollution.

Ensuring general radiation protection and nuclear safety and security.

Application of the Safeguards and establishing the State System for Accounting and Control of Nuclear Material.

Ensuring national and facility levels of Emergency Preparedness and Response.

Coordination of national competent authorities for nuclear security and off-site emergency preparedness.
The EMRC has the duty of regulating nuclear materials and nuclear facilities and activities, to ensure the reliability and availability of the safety and security conditions and requirements for nuclear materials and nuclear installations and facilities, and the preparation of a system for inventory and accounting of nuclear materials in Jordan under the Safeguards Agreement applied by the IAEA.
For environment protection and EIA for Nuclear Facilities and Activities, both EMRC and Ministry of Environment has signed MoU to coordinate the EIA approval process under the both laws (43/2007) and the Environment Protection Law (52/2006), and to hire joint consultant for NPP EIA and capacity building.
In regards to the current law, EMRC has the duty of preparing the legislative framework of nuclear regulations, safety instructions and guides to control the peaceful use of nuclear energy in Jordan.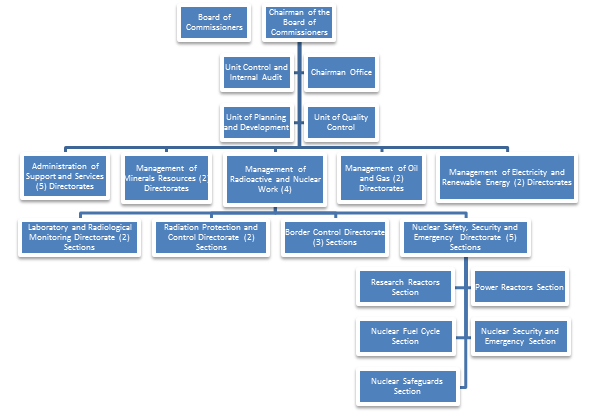 FIG 6. Nuclear Regulatory Structure in Jordan
3.1.2. Licensing Process
The licensing processes of nuclear facilities and activities, reactor operators, management of spent fuel, and other related activities are under preparation by the regulatory body in Jordan, EMRC.
3.2. National Laws and Regulations in Nuclear Power
In 2001, the law of Nuclear Energy and Radiation Protection (29/2001) substituted law (14/1987), and established JNEC to undertake both promotion and regulation of nuclear applications in the country.
In July 2007, the law was amended and divided into two laws allowing the creation of two independent entities the JAEC under Nuclear Energy Law (42/2007) and the JNRC (see Figure 6) under Radiation Protection and Nuclear Safety and Security Law (43/2007).
In January 2008, the Parliament amended law (42/2007) empowering the JAEC to lead the national effort, implement Jordan's nuclear strategy, and manage the nuclear programme.
The parliament, in compliance with IAEA recommendations and with the best of international practices, empowered JNRC as an independent body to promulgate the needed legal, regulatory and security framework for the introduction of nuclear power.
In April 2014, a new law (17/2014) merging JNRC with other regulatory bodies for electricity production and mineral resources in the new regulatory EMRC, where the law (43/2007) remains applicable until issuance of the new Nuclear Law.
The regulations and their status as set out in Article 26 of the Radiation Protection and Nuclear Safety and Security Law number (43/2007), and its amendments, are:
The safe use of nuclear energy (issued in 2014, enacted)

Safety and security of radiation sources (Final draft).

Basis and conditions for granting licenses and permits for the radiation work (issued in 2013, enacted).

Fees for licenses and permits for the radiation work (Issued in 2013, enacted).

Radiation protection (issued in 2015, enacted).

Management and treatment of radioactive waste and spent fuel (Draft).

Transport of radioactive materials (issued in 2015, enacted).

Extracting, mining and processing of the nuclear materials (Final Draft).
In 2015, EMRC issued several Instructions (legally binding regulatory legislations) and Internal Rules, including:
Instructions on the procedures for issuing site permit for nuclear power plants.

Instructions on the procedures for issuing construction permit for nuclear power plants.

Instructions on the Safety of Radioactive Waste Management.

Instructions on the Safety of Spent Fuel Management.

Instructions on the Decommissioning of Nuclear Facilities.

Instructions on the nuclear safety, security and radiation protection requirements in the organizational structure in research reactors.

Instructions on the on-site emergency preparedness in nuclear and radiological facilities.

Instructions on off-site emergency preparedness for nuclear and radiological facilities.

Instructions on Safeguards and the State System for and inventory of nuclear material

Instructions on the Safety of Research Reactors.

Instructions on licensing specialized training and personal licenses in research reactors.

Instructions on the Trustworthiness of the research reactors workers

Instructions on the Radiological Environmental Impact Assessment.

Instructions on issuing licenses and permits for Subcritical Assemblies.

Instruction on Fund for Decommissioning.

Rules of EMRC Inspection on Nuclear Facilities and Activities.

Rules of EMRC Inspection on Radiological Facilities and Activities.

EMRC Enforcement Policy

Instructions on the Licensing of Radiation Protection Officers.

Instructions on the Categorization of Radiation Facilities.

Rules of EMRC in Qualification of Nuclear Inspectors.

Rules of EMRC in Qualification of Radiation Inspectors.

EMRC Quality Management Manual

EMRC Inspection Manual
REFERENCES
Central Bank of Jordan, Amman, (2016). www.cbj.gov.jo
Department of Statistics, Amman, (2016). www.dos.gov.jo
Enegy Mineral Regulatory Commission, (2016). www.emrc.gov.jo
Ministry of Energy and Mineral Resources, "Energy Sector Strategy (2007-2020)", Amman, (2007). www.memr.gov.jo.
National Electric Power Company, Amman, (2016). www.nepco.com.jo .
APPENDIX 1: INTERNATIONAL, MULTILATERAL AND BILATERAL AGREEMENTS
AGREEMENTS WITH THE IAEA
MAIN INTERNATIONAL TREATIES
BILATERAL AGREEMENTS
APPENDIX 2: MAIN ORGANIZATIONS, INSTITUTIONS AND COMPANIES INVOLVED IN NUCLEAR POWER RELATED ACTIVITIES
Name

Address

Telephone
number

Facsimile
number

e-mail address

website address

Main activities and production capabilities

Jordan Atomic Energy Commission

Amman-70 (11934) Jordan

+9626 5200460

+96265200471

contact@jaec.gov.jo

www.jaec.gov.jo

Responsible for the development and implementation of the nuclear power programme

Jordan Nuclear Power Company

142755- Amman-11814 Jordan

+962658006100

+96265806129

---

---

Perform the pre-investment phase project development activities operating organization

Energy and Minerals Regulatory Commission

1865, Amman 11821, Jordan

+9625805000

+962-6-5805026

---

www.emrc.gov.jo

Regulating the energy sector in Jordan

Rusatom Overseas

29, Serebryanicheskaya Embankment,
Moscow, Russian Federation, 109028

+7 4957300873

---

overseas.inc@rosatom.ru

www.rusatom-overseas.com

Promotion of the integrated offer for NPP construction projects in the international market

Atomstroyexport 

127 434, Moscow, Russia Dmitrovskoe

+74957379037

+74952323725

post@atomstroyexport.ru

www.atomstroyexport.ru

SC ASE is a key foreign trade engineering company of State Corporation "Rosatom" for construction of nuclear power facilities abroad

National Elelctric Power Comapny

2310-Amman 11181 Jordan

+96265858615

+962 6 5818336

info@nepco.com.jo

www.nepco.com.jo

Owns the electric transmission network and is responsible for operating the electrical system in Jordan and the electricity grid with neighboring countries

Coordinator Information
Name of report coordinator: Yazan Al-Bakhit
Institution: Jordan Atomic Energy Commission
Contacts: bakhit.yazan@jnpc. com.jo